Chairman's Report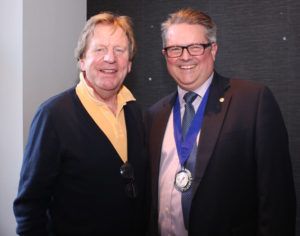 If I thought my first year as Chairman had flown by, I can only say that my second has gone even quicker. You don't need me to tell you that this last year has been like no other in the history of the BSB.
Following our AGM last year, we had our conference dinner followed by a very successful Autumn conference. Yet again we had a fantastic mix of inspiring and informative conference speakers.
We had 3 papers during which the presenters shared their success in the bakery industry: Paul Baker (St Pierre Groupe); Mike Bagshaw (ITS); and Ian Cummings (Asda). We also had three papers that provided information on key topical subjects: Obesity – Samantha Montel (PHE); Market information – Dominic Allport, NPD Group; The Wheat Harvest and Brexit – Alex Waugh (NABIM).
During November I had the honour of representing the BSB at the Irish Bakers' Benevolent Ball in Dublin, and at The Worshipful Company of Bakers Election Banquet at the Mansion House in London.
My last engagement was just before Lockdown when I attended the 2020 National Bakery awards. I had the pleasure of inviting the 4 young 'bakers of the year' to be our guests at our 2020 Autumn conference. We have supported students in the baking industry for a number of years, but over the last couple of years we have also sought to engage with young bakers who are working in the industry having left college, or did not have the opportunity to go to college. You may recall that at last year's AGM we passed a motion to use our supporters' monies to help all young bakers in the industry, not just students. So, it was a particular pleasure to invite them to our conference, which will now be in spring 2021 or thereafter, depending of course on the situation with Covid-19 restrictions.
I would like to take this opportunity to thank our supporters, and you will have seen their logos displayed ahead of the proceedings today. The BSB is a not for profit organisation, dedicated to promoting learning within the baking industry. Our Supporters' generosity is very much appreciated and their support enables us to achieve this aim.
At last year's AGM I was pleased to announce that we had three replacements on the Executive Committee, Natalie Drake, Megan Roberts and Stephen Ville, all of whom have played a very active part in the committee, and despite Covid 19, are helping to enable the society to move forward.
I also mentioned the fact that we had appointed SANDA to be our conference co-ordinators. They ran our Autumn conference and were working on the Spring conference. However earlier on this year, having recruited new members to the Executive Committee, we reviewed the need for an external conference co-ordinator and decided that we could dispense with SANDA's services and bring the coordination of our conferences back in-house.
We had planned a full programme of presentations for our 2020 Spring conference but as you know, we had to cancel it. We managed to transfer most of the speakers to the Autumn conference, and had booked the Ardencote Hotel for the conference, AGM and conference dinner. Again unfortunately, we had to take the difficult decision to cancel our 2020 Autumn Conference due to the Covid-19 restrictions.
Cancelling and postponing our conferences are not things we have taken lightly, and we have had some robust discussions on it at our meetings. We have tried to take the decisions in a timely manner so that we minimise the cost to the Society. We are also acutely aware that for many of our members, the BSB is all about its conferences. Once we are in a position to hold conferences again, we will do so and we are working towards holding the 2021 Spring conference, if government regulations allow. It will be a one-day conference on Wednesday 21st April at the Tythe Barn, Bicester.
Our conferences were not the only casualty of the pandemic, since sadly we were unable to hold our annual golf day this year. I would like to thank Keith Houliston for all the work he put into organising the 2020 golf day prior to the cancellation.
Although we were unable to host both conferences this year, we are investigating ways in which we can continue to promote learning within the baking industry. One of the ways in which we are looking to do this is to hold a programme of bakery related webinars for our members until we are in a position to hold conferences again.
Our first webinar will take place immediately after this AGM. Last October Past Chairman of the BSB Mike Bagshaw gave an inspirational talk about founding ITS. Today, you will hear from Adam Cohen of ITS on 'How to do business better – now and after Covid!'
In November we will be hosting a BSB Webinar with Mintel, who will be telling us how bakery trends will develop as we learn to live with Covid -19. So please save the date, 11th November at 10:00am.
We would like to hold more webinars for our members, and not just about Covid. In order to do so we need your feedback. We will be writing out to you shortly, so please help by telling us what topics you would like to hear about, and whether webinars are something that you would engage with. We will do our best to accommodate you.
Last year I mentioned that succession planning had been a challenge, but we had a plan to move forward.  It is still a challenge, but I am pleased to say that we are making progress.  During the course the AGM, we will appoint David Hall as BSB Honorary Treasurer from 1st July 2021.  David is shadowing current Treasurer Jim Brown for the 2020 – 2021 accounts as part of Jim's hand-over process. Update July 2021 Unfortunately David Hall has stood down as Treasurer Elect for personal reasons and we are currently still looking for someone to take over from Jim as BSB Treasurer.
Due to the Corona Virus restrictions, I have agreed to remain in post as Chairman for another year, and Mark Young will remain in post as Vice Chairman for another year.
Richard Hazeldine, 6th October 2020