The British Society of Baking (BSB) is a forum for learning more about bakery products, ingredients, production processes, equipment, marketing strategies, legislation and the latest developments and trends,  together with the exchange of ideas between members. Founded in 1955, the BSB hosts two conferences each year for our members and guests, as well as a Golf Day and other networking events.
Date for your diary The 2016 Autumn Conference will be held on Tuesday 11th October and Wednesday 12th October at a superb new venue, the Woodland Grange Hotel and Conference Centre, Old Milverton Lane, Leamington Spa, Warwickshire CV32 6RN.  Click on the above 'conferences'  link for more information.
Scottish Bakers Celebrate their 125th Anniversary
Scottish Bakers celebrated their 125th Anniversary on the 3rd September 2016 with a magnificent banquet and ball at the Sheraton Hotel, Edinburgh. Click on to the Scottish Bakers website http://www.scottishbakers.org/ for further information and wonderful pictures of the event. BSB Past Chairman Sarah Autton attended the banquet as Vice Chairman of the ABST, see photograph below.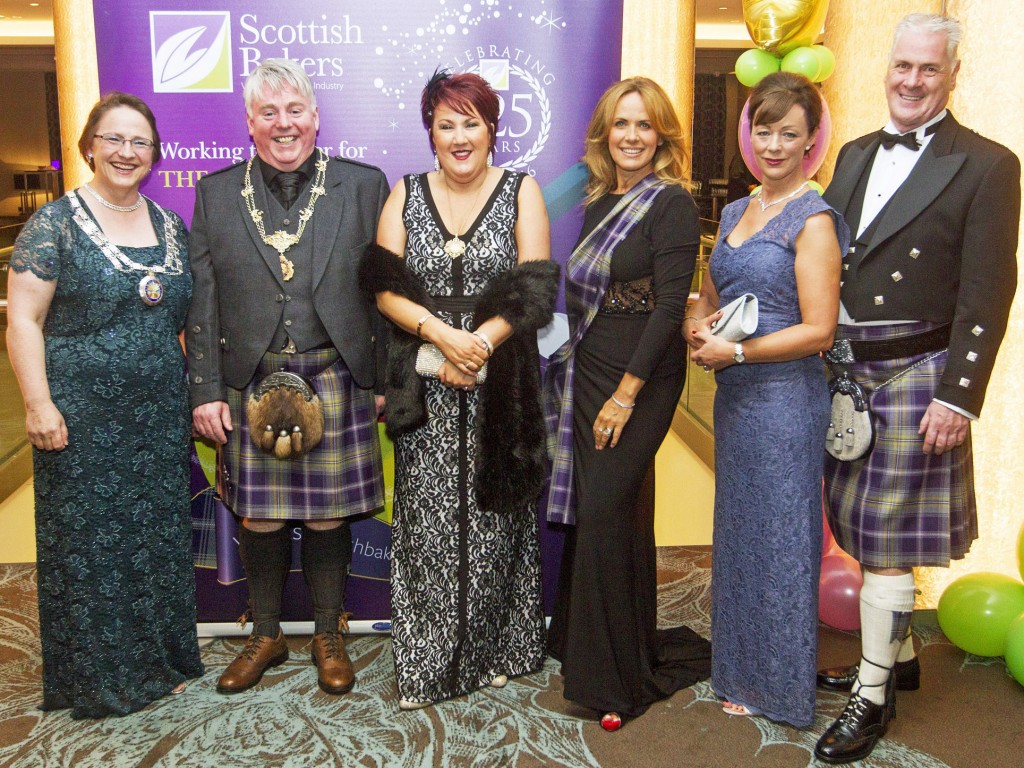 Why not join us today? BSB members come from retail, plant, wholesale and craft bakers, as well as from millers, ingredients and equipment manufacturers, research associations and training and education establishments.
Mission Statement
To inspire lifelong learning, exchange of ideas, advance knowledge and strengthen links across the bakery industry.
Values
Protect and cultivate one of the oldest and most honourable of crafts
With an emphasis on education, aid the flow of technical information through behaviour and action
Commitment to adding value to the bakery industry
Commitment to support trainees and students, through mentoring and financial support
Daring to be transparent in all we do
We differentiate ourselves by supporting all areas of the bakery industry.
With our emphasis on education, we are proud to have lecturers and heads of department of many of the UK's bakery colleges as members.
[rcs_slider id="712″]
The industry contacts I have made since joining the BSB and attending the conferences have proved invaluable.

Sarah Priestly
Bakery Technologist for Hovis Ltd
We are popular with student bakers, who are welcome to join us at especially discounted membership rates, and we also make regular grants to bakery education establishments.
The British Society of Baking has been at the forefront of developments in the baking industry in the UK for 60 years. Through our conferences we endeavour to highlight changes and concerns in the industry, such as the importance of fibre in our diets in the 1970s, which increased the availability of wholemeal and other high fibre breads to consumers, and, in more recent years, the danger to health aspects of hydrogenated fats and the recipe and processing changes required for moving to the use of non hydrogenated fats.
2015 was our 60th year, which we celebrated in style at our two-day Diamond Jubilee conference at the Bicester Hotel, Golf and Spa on the 13th and 14th of October, at which we will had some very special speakers and guests. This included a presentation by Robin Jones of the Village Bakery, Coedpoeth and Wrexham,  see photograph below, entitled 'The Village Bakery's Training and Innovation Academy', which was opened earlier in 2015 by Charles,  Prince of Wales, and his wife Camilla, the Duchess of Cornwall.

Golf Day
2015 was also our 25th annual golf day, which was held on June 9, 2015, at the Forest of Arden Hotel and Country Club, Warwickshire, with a very enjoyable prize giving dinner afterwards.