BSB 2023 Autumn Conference report by Sylvia Macdonald
Growing Your Business was the theme at the British Society of Baking (BSB) October Autumn Conference at the Ardencote Hotel, Warwickshire.
Delegates listened to inspiring ideas and personal testimonies from owners and MDs, monitored trends with the help of big business, kept abreast of technical developments and learned vital business turnaround tips.
An excellent array of six speakers introduced by BSB chairman Stephen Ville, gave up valuable time to address delegates. Profits go to support students and apprentices, a selection of whom were invited to attend conference with their tutor.
Session chairs were Alex Waugh, outgoing director general of UK Flour Millers and Mike Tully CEO of Bako.
High-level speakers included Tesco's Category Buying Managers for In Store Bakery who shared valuable insights about their forward vision, product innovation and ways of working with suppliers. Amanda Hart and Nicola Jamieson job share, leading the very successful bakery buying strategy of Britain's leading supermarket. Delegates learned the in's and out's of Tesco's in-store bakery buying and vital points necessary to contribute to joint supplier/supermarket success.
Britain's largest cake-maker, Finsbury Foods' director Simon Staddon, together with group head of category and insight Ben Kirsby, both spoke on innovation, insight and cake trends currently responsible for growing business. They revealed how changes in tastes, health perceptions and the economic climate are influencing cake presentation, content and format across all categories.
Craft and online award-winning Mimi's Bakehouse of Edinburgh demonstrated really imaginative ideas on relationship building, themed events, employee training and making customers welcome, plus some different eye-catching products. Owner Michelle Phillips and daughter Ashley Harley, inspired delegates with their compassionate but very savvy entrepreneurship.
Bertie Matthews MD of miller Matthews Cotswold Flour literally brought his 200-year old family business back from the brink together with his father Paul. Now they count Tesco and Waitrose among customers, as well as a host of artisan businesses and home bakers. An innovative range of flours, together with NPD for an increasing online community plus an ethical attitude towards regenerative farming, is leading Matthews' inspiring aims for business growth.
A business turnaround expert and interim director who has notched up notable successes in both bakery and FMCG's, Mark Cooper, of Executive Solutions, gave highly practical and useful advice on strategies to build business growth. He also discerns individual skills and enables companies and senior managers to be open and enthusiastic about assessing and revising their vision then coping with the changes required to grow their business.
Conference's technical paper looked at advances in C Cell technology by Calibre Control's MD, Paul Cliffe. Initially British, but now truly global, delegates learned how new advances are further enabling quality control and consistency throughout a wide range of breads, ingredients and baked products via digital imaging. This shows the reaction of different ingredients alongside time factors, production methods and baking mediums with digital imaging helping to produce the desired 'perfect' and consistent end product for volumes large and small.
BSB would like to thank all speakers, both chairs and all delegates for contributing to the success of the Autumn 23 conference and all the valuable networking.
Brief presentations were made to BSB secretary Sharon Byrne for 20 years' service and Alex Waugh, outgoing director general of UK Flour Millers, for the many informative talks he has delivered to BSB.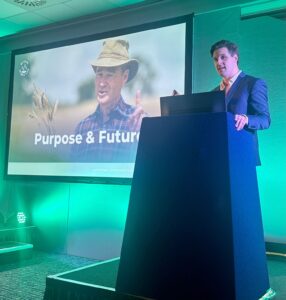 ---
The next BSB conference is 17/18 April 2024 at The Cotswold Hotel, Gloucestershire.
Please put the Date and Venue in your diary now!
For Spring we have an exciting new venue and added optional golf/spa afternoon. This will be followed by the usual BSB networking drinks reception and dinner, then next day conference.
Please SAVE THE DATE NOW!
17 APRIL 2024 – BSB GOLF/SPA Afternoon then DRINKS\DINNER\ENTERTAINER
18 APRIL 2024 – BSB CONFERENCE. COFFEE/LUNCH.
Book one or all. For further details email: bsb@freeuk.com.